Installing the Smart Control app
To make full use of all the settings and functions of the headphones, you need to have the free Sennheiser Smart Control app installed on your smartphone.
Download the app from the App Store or Google Play and install it on your smartphone. Alternatively, you can use your smartphone to scan the following QR code or to call up the following Internet site:
www.sennheiser.com/smartcontrol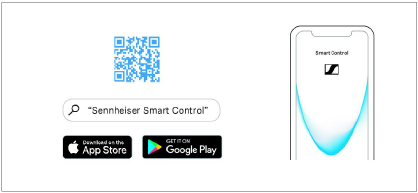 ▷Connect your smartphone to the earphones using Bluetooth (> Connecting the earphones to a Bluetooth device).
▷Start the Smart Control app.
▷Follow the instructions in the app.
▷Simultaneously touch and hold the right and the left touch control panel for 3 seconds to accept the Bluetooth Low Energy connec­tion.
The Smart Control app recognizes the earphones and activates all available settings and functions.
| | |
| --- | --- |
| | If you connect the earphones via the Smart Control app, only a Bluetooth Low Energy connection may be established (Blue­tooth name "LE-MOMENTUM TW 2"). To use the earphones for music playback, etc., pair the earbuds via the Bluetooth menu of your smartphone (Bluetooth name "MOMENTUM TW 2") (> Pairing the earphones with a Bluetooth device). |